Press Release
No.: 17 - PR/BHL/2017
Dhaka, August 17, 2017
Subject: New Honda Exclusive Authorized Dealer Showroom Opening at Gazipur.
Bangladesh Honda Pvt. Ltd. opened a 46th showroom in chowdhury Bari, vhogra chowrasta, at Gazipur on August 17, 2017 under the dealership of Karnaphuli Industries Ltd. The showroom is new and will help the people of Gazipur to get Honda all model bikes, service and spare parts from this showroom.
"In Bangladesh, it is also our aim to be number 1 position by providing the product with the excellent fuel economy, good design and reliability and 3S service by our dealers. It is our wish that Karnaphuli Industries Ltd will be No.1 dealer in Gazipur area by providing the outstanding services which exceeding customer expectation and we BHL will extend our every effort to realize such wish." said Yuichiro Ishii, MD & CEO of Bangladesh Honda Private Ltd.
Following high official also attend the opening ceremony:
Hiroaki Funami, Director & GM, Asian Honda Motor (ASH), Thailand

Minoru Kato, President & CEO, HMSI, India

Anupam Mohindro, Director (Purchase), HMSI, India

Yuichiro Ishii, Managing Director & CEO, BHL

Saber H Chowdhury MP, Managing Director, Karnaphuli Group.

Raimah Chowdhury, Director, Karnaphli Group.
Showroom Address: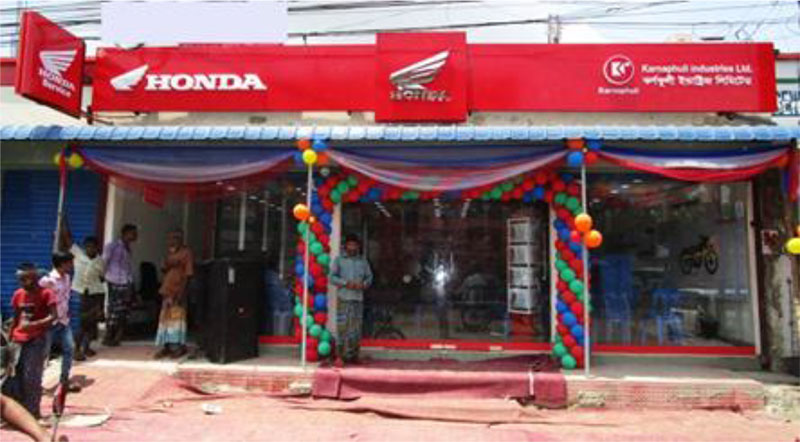 Karnaphuli Industries Ltd.
Md. Mozammel Hoque.
M.A Hakim Market, Dhaka Mymensing
Highway, Chowdhuri Bari, Vhogra Chowrasta, Gazipur-1704.
Email-mbu.dmsm@karnaphuli.com
Contact-01730-730540
Thanking You
Yuichiro Ishii
Managing Director & CEO
- End of Press Release -