Honda Engine Assemble Line Officially Inaugurated by NBR Chairman
Dhaka March 1, 2021: Bangladesh Honda Private Limited (BHL) is honored to present its global standard operation, manufacturing process under manufacturing Category 1, Honda standard Engine Assembling line along with Safety Riding activities to the Honorable Senior Secretary, Internal Resources Division & Chairman, National Board of Revenue, Mr. Abu Hena Md. Rahmatul Muneem, distinguished members of the NBR Mr. Syed Golam Kibria, Dr. Abdul Mannan Shikder, Zakia Sultana, Hafiz Ahmed Murshed, Apurba Kanti Das, Pradyut Kumar Sarkar, along with high officials of the NBR during the visit of our Factory on 27th February 2021.
During the visit of Honorable Chairman of NBR, our Engine Assembly line inaugurated officially. Mr. Himihiko Katsuki, Managing Director & CEO and Mr. Shah Muhammad Ashequr Rahman, Head of Finance & Commercial, Bangladesh Honda Private Limited were present along with him.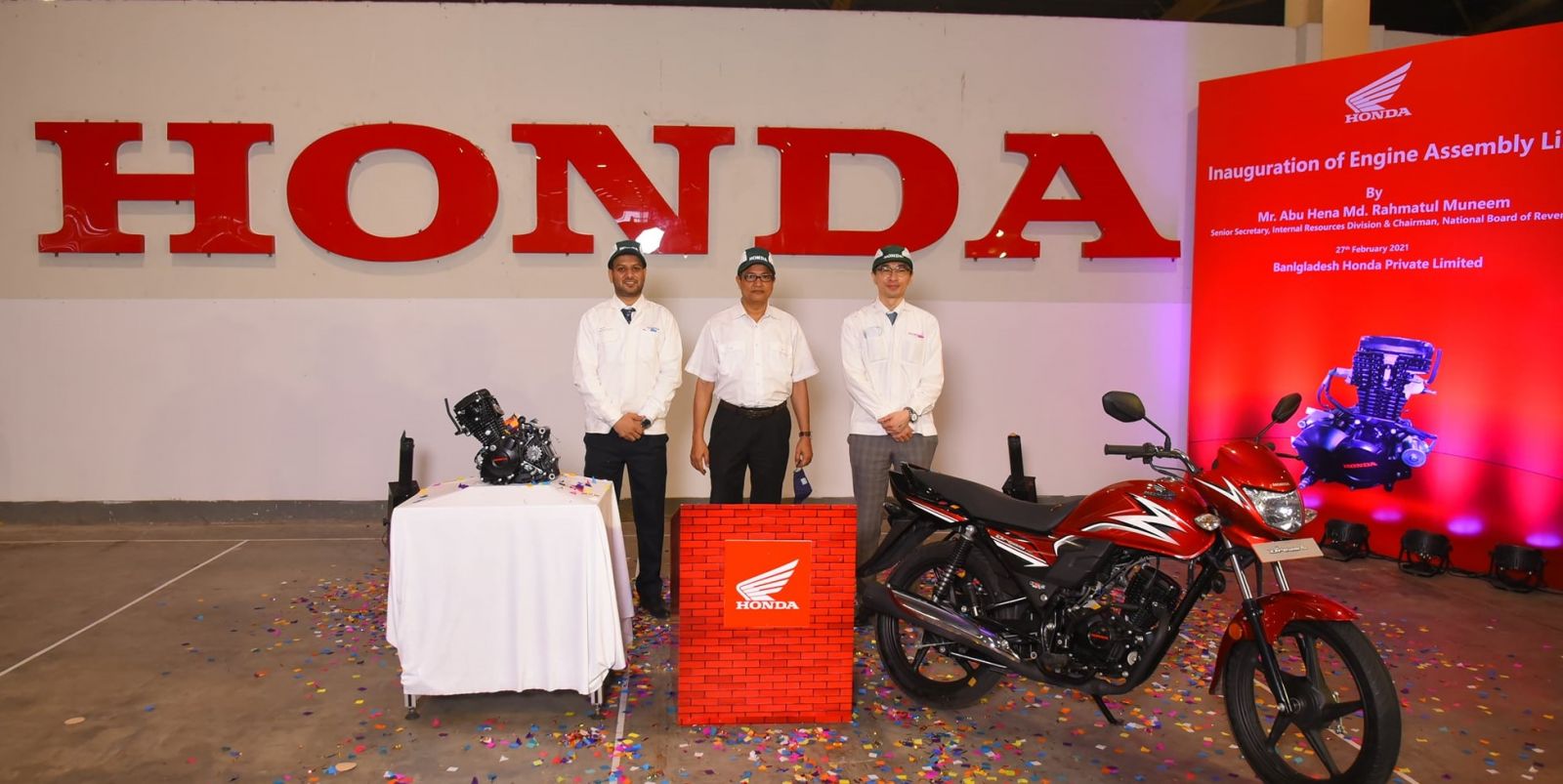 The associates of Bangladesh Honda Private Limited were highly encouraged by the visit of Honorable Chairman and his team members to the production site, and some of us working in the factory even had a chance to have a conversation with Honorable Chairman. Surely, his presence at our factory expedite our localization and increase our associate's motivation.
Mr. Himihiko Katsuki, MD and CEO, Bangladesh Honda Private Limited,
It was our immense pleasure to welcome the Hon'ble Chairman Mr. Abu Hena Md. Rahmatul Muneem, Senior Secretary, Internal Resources Division & Chairman, National Board of Revenue (NBR) along with distinguished members and high officials of the NBR and the Peoples' Republic of Bangladesh.
There is no doubt that the Bangladesh motorcycle market is very promising with great potentials to grow supported by the large population and the steady economic growth. In conjunction with the government's policy to enhance the industry through increase of localization, we made our investment to enforce our production with our new plant at Abdul Monem Economic Zone in Munshiganj. We have already started manufacturing frames and swingarms from raw materials in line with the government's localization policy. Besides, as a part of our investment, we have started a full phase engine assembly line in our plant maintaining highest quality of Global Honda standard to accelerate the industrialization of the nation and to make a motorcycle more affordable for the customers. From R&D aspect, we studied the customers in Bangladesh carefully and developed Dream 110, Honda's first motorcycle designed only for Bangladesh with an affordable price tag of BDT 89,900/=.
In this manner, Honda is committed to provide the highest quality products with reasonable prices and to contribute to the society by spreading the joy and freedom of mobility. Bangladesh Honda sincerely thanks the Government of Bangladesh, for its trust and support and it will further explore the way to contribute to the economy of Bangladesh such as vendor development.
During the visit, Mr. Shah Muhammad Ashequr Rahman gave the presentation. In his presentation, Bangladesh Honda Private Limited (BHL) introduced the 4S (Sales, Service, Spare parts and Safety Riding) Honda Exclusive Authorized Dealer first in Bangladesh. BHL is not only contributing to industrialization but also contributing to the society by increasing the employment and industrialization. First motorcycle company in Bangladesh established factory at private economic zone. BHL sincerely appreciated Bangladesh Government specially NBR for considering the Motorcycle industry as one of the priority sectors and introducing the Bangladesh Motorcycle Industry Development policy 2018 along with the related SRO from NBR.
To comply with the SRO, BHL established the new manufacturing factory in 2018 and started the production under Manufacturing Category 2. By continuous effort to increase the localization by transferring the technology, BHL started the Manufacturing Category 1 in December 2020 in compliance of the SRO 155.
BHL sincerely appreciated to NBR for priorities the motorcycle industry and issuing the SRO. BHL complied the SRO and able to reduce the price with best effort of localization, now a day's motorcycle price is much more affordable compare to 2015. For example, Dream 110 CC price was 149,000 in 2015. After manufacturing it's price became 89,900/= in December 2020. Price reduced 59,100, which is 40%, for joy of the customer. Due to effective initiatives of the government in reducing price of motorcycle, the vehicle has turned into a necessity than a luxury item.
BHL invested heavily and it's needed the policy stability. BHL is committed to contribute to the industrialization in Bangladesh and its part, BHL introduced full phase Engine Assembly Line by maintaining the highest quality.
Faithfully
-----------------------------------------------
Himihiko Katsuki
Managing director and CEO
Bangladesh Honda Private Limited
For further queries:
Shah Muhammad Ashequr Rahman

Md. Gias Uddin Sajeeb

Head of Finance and Commercial,

Section Head- Marketing and Promotion

Mobile: +8801729211311,

Email: ashequr@bdhonda.com

Mobile: 01729-211013,

sajeeb@bdhonda.com