No.: 22 - PR/BHL/2017 Dhaka,
August 29, 2017
Subject: New Honda Exclusive Authorized Dealer Showroom Opening at Faridpur.

Bangladesh Honda Pvt. Ltd opened a 50th showroom in Lalkutir Market (Near Old bus stand), Barishal Road, Goalchamot, Faridpur, on August 29, 2017 under the dealership of Sufiaamin Motors. The showroom is new and will help the people of Faridpur to get Honda all model bikes, service and spare parts from this showroom.

In order to maximize the customer satisfactions, Sufiaamin Motors, Faridpur will provide the "Best Quality Honda Products", "Honda Genuine Spare Parts" and "Skilled technical service" from the showroom.

Showroom Address: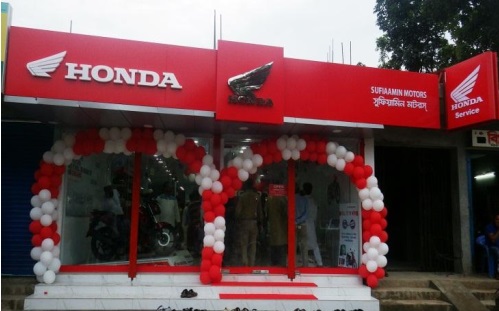 Abu Sufian Islam,
Lalkutir Market.(Near Old bus stand)
Barishal Road,
Goalchamot.
Faridpur.
Contact-01970-070509
email-sufiaaminmotors@gmail.com
Thanking You
Youichiro Ishii
Managing Director & CEO