Press release
No.: 27 - PR/BHL/2017
Dhaka, November 06, 2017
DHAKA, Bangladesh – Bangladesh Honda Private Limited (BHL), Honda's motorcycle business joint venture in Bangladesh, has decided to build a new motorcycle production plan to expand its production and sales volume and today held a groundbreaking ceremony to mark the start of construction in Munshiganj District, Dhaka Division in Bangladesh.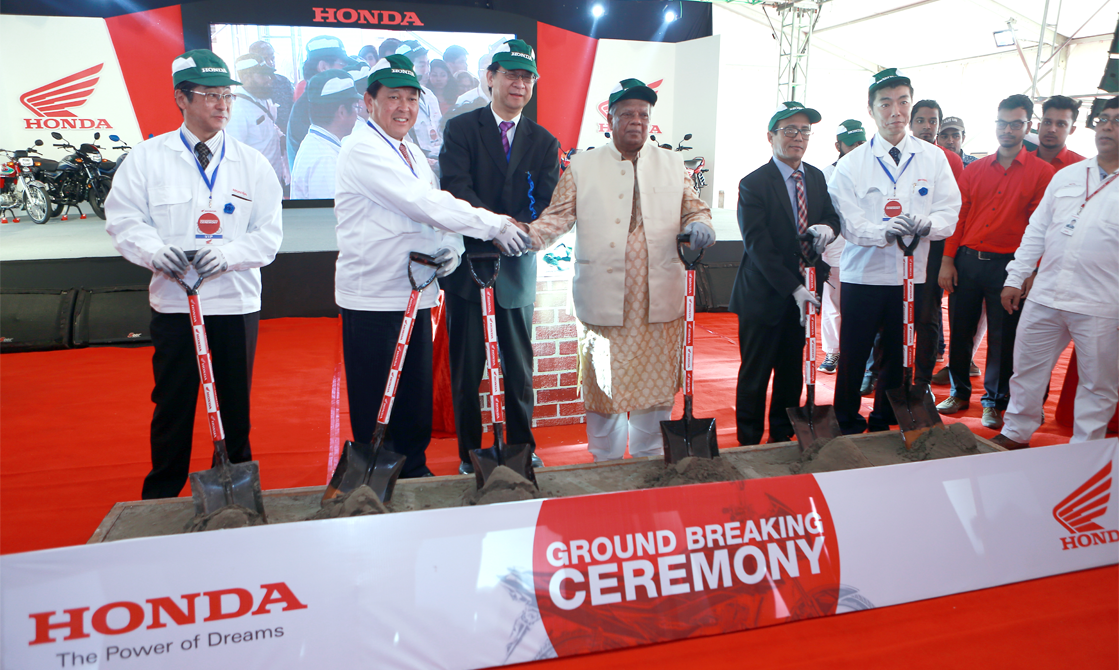 The ceremony was attended by the Honorable Minister of Industries, Mr.Amir Hossain Amu, MP, and other representatives from the Bangladesh government, as well as H.E. Hiroyasu Izumi, Ambassador Extraordinary and Plenipotentiary of Japan to Bangladesh. Representing Honda at the ceremony were Shinji Aoyama, Chief Officer for Regional Operations (Asia & Oceania) of Honda Motor Co., Ltd., and Yuichiro Ishii, Managing Director and CEO of BHL.
BHL began local assembly of Honda motorcycles in Bangladesh in 2013 at a leased plant facility. Preparing for the future expansion of the market, BHL has acquired a 25 acres land at Abdul Monem Economic Zone (AMEZ) in Munshiganj District, Dhaka Division, which is located approximately 50 km southeast from Dhaka, Bangladesh. BHL plans to make the initial investment of 2.3 billion Bangladesh Taka, which is equivalent to US$29 million, for the land purchase and construction of the facilities.
The new plant is scheduled to begin motorcycle production in the second half of 2018 with initial annual production capacity of 100,000 units as the first step. BHL plans to continue to invest for expanding its production capacity of the new plant up to 200,000 units by 2021, in line with the market trend
In addition to increasing production volume of motorcycles, the new plant will increase the level of local content sequentially in accordance with the Bangladesh government's measures to promote local procurement. In doing so, BHL will strive to offer affordable personal mobility in Bangladesh, and also aims to contribute to the development of the Bangladeshi motorcycle industry in various aspects such as; additional employment, the development of related industries and suppliers, and transfer of technologies, expertise and manufacturing know-how based on Honda's global experiences.
Mr. Shinji Aoyama, Chief Officer for Regional Operations (Asia & Oceania) of Honda Motor Co., Ltd. said, "We believe the Bangladesh motorcycle market is very promising with great potentials to grow supported by the large population and the economy with steady growth. In conjunction with the government's policy to enhance the industry through the localization increase, we have decided to make further investment to enforce our production with our new plant. With the plant, we aim to contribute to the development of the industry, as well as to provide customers with affordable various products to meet the needs of customers in Bangladesh."
The Bangladesh government revised its policy for localization and reduced the supplemental duty this year. Reflecting this change, motorcycle prices declined, and the market is now growing rapidly. As of September, 2017, the year-to-date industry-wide motorcycle sales reached 270,000 units, largely exceeding 2016 full-year sales. This trend of motorcycle sales expansion is expected to continue in 2018 and beyond.
BHL is committed to provide the highest quality products with reasonable prices and to contribute to the society by providing the people with the joy and freedom of mobility. Through these efforts, BHL will strive to be a company that society wants to exist in Bangladesh.
About Bangladesh Honda Private Limited (BHL)
Established

Representative

Location

Capital investment

Capitalization ratio

Business

Employment

Sales models

(7 models)

: December 2012

: Yuichiro Ishii, Managing Director and CEO

: Gazipur, Bangladesh

: 610 million Bangladeshi Taka

: 70% Honda Motor Co., Ltd.

30% Bangladesh Steel and Engineering Corporation

: Import, production and sales of motorcycles and motorcycle parts

:Approximately 190 associates (as of November, 2017)

:(Models produced by BHL) CD80, Dream Neo 110, LIVO 110, CB Shine125, CB Trigger 150

(Imported models): Wave α, CBR150R
About the new BHL plant
Location

Factory size

Production capacity

Start of production

:Abdul Monem Economic Zone, Char :Baushia, Gajaria, Munsiganj, Bangladesh

: 25 acres (lot size)

:100,000 units /year

(at the production commencement in 2018)

: In the second half of 2018
About the existing BHL plant
Location

Start of production

Factory size

Production capacity

: Gazipur, Bangladesh

: October 2013

: 8,700m2 (lot size)

: 80,000 units /year